The Multiple Benefits of the Waterlase Dental Laser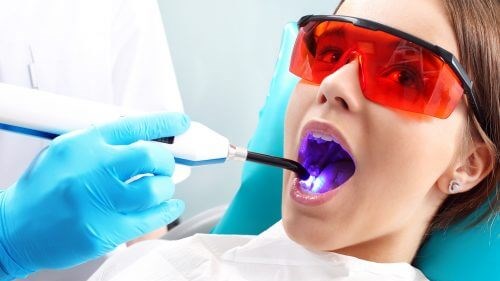 Waterlase Dental Laser?
Are you scared of going to the dentist or hearing the sound of the dental drill in your ear? Are you terrified of needles or do you dread being numb hours after leaving the dentist's chair? The Waterlase Dental Laser can alleviate these dental dreads.
As technology continues to be life-changing, dentists are choosing cutting-edge tools to perform routine dental procedures. Cutting-edge lasers allow your dentist to treat your dental conditions in a minimally invasive way. The Waterlase dental laser allows dentists to use minimal to no anesthetic or drills to perform dental procedures.
How Natural, Water-Powered Dentistry Works
Combining laser energy, air, and water spray, Waterlase can perform many procedures without a shot or a drill for safe use on the mouth's tissue. The Waterlase Dental Laser excites water molecules to cut through the tooth when the laser makes contact with the tooth. The laser prevents heat, gives a virtually pain-free experience, and keeps the tooth hydrated by continuously spraying water.
Benefits of the Waterlase Dental Laser
No heat and less vibration than with drilling
No bleeding or sutures (stitches)
No anesthesia required in most cases
No or minimal recovery time
Pinpoint accuracy, which prevents damage to surrounding tissues
Combines focused light energy with a stream of water
Removes decay, prepares teeth for fillings, performs root canals
More Convenient
Even for those who floss, brush, and use fluoride regularly, sometimes you still end up with a cavity. Between all of your commitments, you may not have the time to schedule another dental appointment. With Waterlase Dental Laser you don't have to worry! Waterlase is gentle enough that your dentist can complete most of your dental needs in a single visit. Plus, in some cases, your Waterlase dentist can save you the hassle of going to a specialist or schedule multiple dental visits.
Dr. Perez and Dr. Kodish are experienced Dentists in Fort Lauderdale and the best place to experience the Waterlase dental laser. Do you want a procedure done with the Waterlaser dental laser? We are dedicated to bringing you the most up-to-date dental care. With the Waterlase dental laser, we do just that. The traditional drill may still be used in some cases, but for most, the Waterlase offers unprecedented comfort and efficiency.
Contact The Kodish-Perez Dental Group and schedule an appointment today! Dental insurance plans vary. The Kodish-Perez Dental Group offers financing options.
Dr. Perez and Dr. Kodish welcome you to Kodish-Perez Dental Group. Here is Fort Lauderdale, Dr. Perez, Dr. Kodish, and their team believe in providing patients with the best treatment available. We support a 'full care' dentistry environment, meaning that we will recommend the services needed to bring your smile to a state of optimal health, as well as provide you with a personalized prevention plan to address further concerns. This level of dental care is the dental care we would give members of our own family! Please contact us today to schedule your first appointment.