Preventive Dentistry – Fort Lauderdale Dentists Offer Complete Solution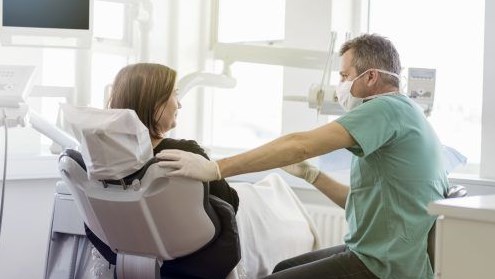 Preventative Dentistry
Preventive Dentistry is a combination of regular dental check-ups combined with brushing and flossing to maintain good oral health. It is essential to begin preventative dental care in childhood to keep your teeth healthy with regular oral exams, teeth cleaning, and x-rays.
Preventive Dentistry can reduce cavities, gum disease, and gingivitis. Most dental insurance plans will fully cover preventative care and offer two cleanings per year, every six months, bitewing x-rays, and fluoride treatments. Always refer to the guidelines of your dental plan to ensure dental services are covered.
The Kodish-Perez Group is your go-to provider for preventative dentistry. We perform cleanings, exams, and x-rays, as well as fillings and other dental procedures. We can identify problems before they become more prominent and educate you on proper preventative oral health. The Kodish-Perez Group offers financing.
Preventive Dentistry To-Do List:
Brush morning and night with a soft toothbrush and fluoride toothpaste.
Floss daily to remove plaque.
Use mouthwash to rinse after glossing
Be cautious with hard candies or foods with pits and seeds to avoid damaging teeth.
Avoid acidic foods which can harm the enamel of the teeth.
Use a night guard when sleeping if you grind your teeth.
Avoid smoking and tobacco products.
Benefits of Preventative Dentistry:
Lowers the risk of developing tooth decay and gum disease.
Promotes good oral hygiene habits; such as brushing and flossing.
Allows early identification of dental problems enabling you to correct any problems before they are costly.
Helps reduce dental problems related to diabetes, cancer, or osteoporosis.
Each dental exam is a form of prevention since it allows your dentist to detect dental decay during the oral exam and by reading your x-rays. Upon completion of the exam, your dentist can recommend deep cleanings or other ways you can prevent cavities and gum disease.
Getting regular oral exams prevents cavities and gum disease. The American Dental Association recommends more than one dental appointment if a long period of time has gone by without receiving dental care.
The Kodish-Perez Dental Group
Dr. Perez and Dr. Kodish are experienced Dentists in Fort Lauderdale. At The Kodish-Perez Dental Group, we provide complete preventative dentistry to help you and your family remain cavity and gum disease-free.
Contact The Kodish-Perez Dental Group and schedule an appointment to have digital x-rays done today! Dental insurance plans vary. The Kodish-Perez Dental Group offers financing options.
Dr. Perez and Dr. Kodish welcome you to Kodish-Perez Dental Group. Here is Fort Lauderdale, Dr. Perez, Dr. Kodish, and their team believe in providing patients with the best treatment available. We support a 'full care' dentistry environment, meaning that we will recommend the services needed to bring your smile to a state of optimal health, as well as provide you with a personalized prevention plan to address further concerns. This level of dental care is the dental care we would give members of our own family!
Please contact us today to schedule your first appointment.