Incredible Veneers – Are You Ready to Dazzle the World With Your Smile?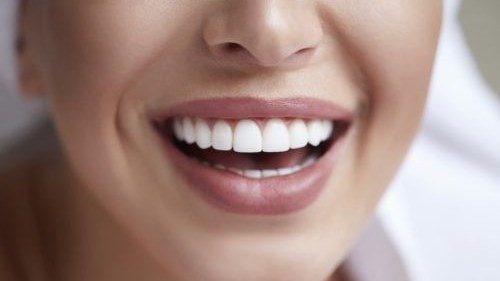 Healthy white smile close up. Beauty woman with perfect smile, lips and teeth. Beautiful Model Girl with perfect skin. Teeth whitening.
Incredible Veneers
Veneers used to be a temporary solution, but today porcelain veneers are the most durable and long-lasting products on the market. Veneers are bonded to etched enamel and can last between 10 and 30 years, bringing a somewhat permanent solution.
High-quality translucent porcelain resists staining from coffee, tea, cola, red wine and cigarettes and virtually worry-free.
In a perfect world, we would be judged for our kindness and intelligence, but alas, most judge others almost entirely on physical appearance. A first impression takes 30 about seconds, and it can take six to eight positive encounters to reverse a poor first impression.
An unattractive smile can cause low self-esteem and even depression. If you are afraid your unattractive smile is causing others to think less of you, consider porcelain veneers to make a fantastic first impression.
Why Should I Use Porcelain Veneers?
Porcelain veneers offer many comprehensive benefits. They can take the place of orthodontics and tooth whitening, Veneers can correct gaps between teeth, chipping, cracking, and uneven teeth, realigning the teeth the way orthodontics can. Veneers can also reverse staining from tea, coffee, and red wine the way tooth whitening can. It is the best of both worlds.
Veneers give the appearance of straight, even teeth and can be customized to match your existing tooth color for a natural look. Veneers create a bond that strengthens your teeth, contrary to the belief that veneers weaken the enamel.
The Porcelain Veneer Process
Getting veneers is not as lengthy or complicated as you may believe. It will only take about two two hour appointments to transform your smile with veneers.
At the first appointment, an impression of your teeth will be made. That impression is sent over to a lab that will craft your veneers to fit your teeth perfectly. In about two weeks, the veneers will be permanently bonded to your teeth.
Dr. Perez will ensure that you're getting the very best fit, functionality, and appearance. You will walk out of the office with an incredible new smile.
Are you ready for a smile transformation? Would you put a price tag on having teeth that you're not ashamed to show? It's difficult to overestimate the negative impact of a smile made unsightly by crooked, chipped, and yellow teeth. Choosing veneers is an investment — in your smile and your confidence.
The Kodish-Perez Dental Group
Dr. Perez and Dr. Kodish are experienced Dentists in Fort Lauderdale. If you are ready to have your smile transformed with veneers, visit us at The Kodish-Perez Dental Group. At The Kodish-Perez Dental Group, we provide complete preventative dentistry to help you and your family remain cavity and gum disease-free. Contact The Kodish-Perez Dental Group and schedule an appointment to have a smile makeover today to get your Incredible Veneers! Dental insurance plans vary. The Kodish-Perez Dental Group offers financing options.
Dental Services Boca Raton
Dr. Perez and Dr. Kodish welcome you to Kodish-Perez Dental Group. Here in Fort Lauderdale, Dr. Perez, Dr. Kodish and their team believe in providing patients with the best treatment available. We support a 'full care' dentistry environment, meaning that we will recommend the services needed to bring your smile to a state of optimal health, as well as provide you with a personalized prevention plan to address further concerns. This level of dental care is the dental care we would give members of our own family! Please contact us today to schedule your first appointment.