How Brushing Your Teeth Twice a Day Can Prevent Erectile Dysfunction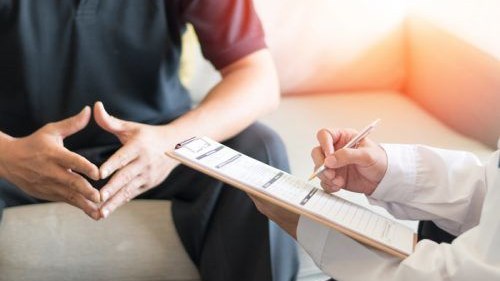 Urologist Doctor giving consult for prostate problems to patient. Urologic oncologists specialize in treating cancer of the urinary tract and male reproductive organs. Mens health problem concept.
Erectile Dysfunction
Can brushing your teeth twice a day prevent erectile dysfunction? The Journal of Sexual Medicine has determined through a study that men with gum disease are three times more likely to have erectile dysfunction than men who do not.
It is crucial to rid the mouth of bacteria by brushing at least twice per day. The study reported that rats with gum disease had lower levels of endothelial nitric oxide synthase, an enzyme necessary for getting an erection.
Inflammation of gums results from plaque buildup. Gum disease can be caused by poor dental hygiene. Inflammation of the gums can damage blood vessels in the penis. When the blood flow to the penis is impeded, difficulties maintaining an erection can develop.
Erectile dysfunction can serve as a warning sign that you may have heart problems due to limited blood flow as well.
Early signs of gum disease are painless, so seeing your dentist for regular examinations and deep cleanings can catch gum disease in its early stages. When gum disease is caught too late, surgery may be required to restore bone loss and can lead to tooth extraction as a last resort.
Once under control, gum disease can be treated with frequent cleanings. One periodontal disease is diagnosed, it can be recurring, so it is essential to maintain a regular schedule with your dental provider.
Periodontal disease is almost entirely preventable by brushing twice a day. This study may be the best motivator for men to start brushing their teeth twice a day. Besides, what could it possibly hurt to brush twice a day?
Dr. Perez and Dr. Kodish are innovative dental providers with expertise in many areas. They care about your dental health and how it affects your overall health. Contact The Kodish-Perez Dental Group today to make an appointment for an examination. Dr. Perez and Dr. Kodish will provide deep cleanings, and standard dental cleanings. Financing is available.
Dr. Perez welcomes you to the Kodish-Perez Dental Group. Here is Fort Lauderdale, Dr. Perez and his team believe in providing patients with the best treatment available. We support a 'full care' dentistry environment, meaning that we will recommend the services needed to bring your smile to a state of optimal health, as well as provide you with a personalized prevention plan to address further concerns. This level of dental care is the dental care we would give members of our own family! Please contact us today to schedule your first appointment.