The 5 Reasons Digital Dental X-Rays are Better Than Traditional X-Rays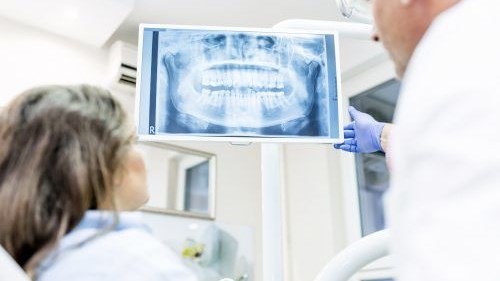 X-Rays
Anyone who has been to the dentist has had x-rays at some point. X-Rays or Digital Dental X-rays are an important preventative and diagnostic tool your dental provider uses for routine visits and to diagnose problems. Dental technology has improved the way dentists get images of your teeth.
X-Rays are taken with a patient sitting up in a chair with a protective lead apron. There is typically no discomfort or pain associated with having x-rays taken. Most dental providers take bitewing x-rays each year. Periapical x-rays are taken if you are having issues with a particular tooth, occlusal x-rays to show the roof or floor of the mouth, and panoramic x-rays are taken every 3-4 years.
Digital Dental X-rays
A digital dental X-rays may be performed in two different ways, extraoral and intraoral. Intraoral X-rays are the most common because they tend to produce high detail and give a clear view of the teeth.
Digital Dental X-rays are efficient, painless, easier to use than film x-rays, and reduce the amount of radiation used by 75%. The process for digital radiography is similar to traditional dental x-rays that use film. Your dentist will insert a sensor in your mouth to capture images of your teeth. The similarities end there. Digital radiography uses a digital sensor connected to a computer. Once the image is captured, it is projected on the computer screen for your dentist to view.
Advantages of Digital Radiography
To find hidden decay that may be developing underneath an existing filling.
To find cracks or damage in an existing filling.
To alert the dentist to possible bone loss.
To reveal potential problems in the root canal.
To help your dentist prepare the placement of dental implants, dentures or other dental work.
To reveal other abnormalities.
5 Benefits of Digital Dental X-rays Radiography
Less Radiation — The equipment used in digital radiography exposes dental patients to much less radiation. IWhile conventional dental X-rays are relatively safe, digital radiography is an excellent option for those who take X-rays on a regular basis or for those who are concerned about radiation.
Shorter Dental Appointments — Digital radiography can also shorten your dental appointment! With digital radiography, the sensor develops the picture almost instantly and projects it onto a computer screen without having to wait for the images to develop.
Higher Quality Images — Digital radiography has done away with the "one size fits all" mentality. Digital X-rays can be enlarged or magnified for a better visual of the tooth's structure. Brightness, contrast and color can also be adjusted, allowing your dentist to see small cavities easier.
Transferring Dental Records — Digital images can be e-mailed to a dental specialist for immediate review. Digital X-rays can be printed out for your use. As more offices are turning to electronic patient charts, computers may eliminate the need to mail dental records altogether.
Environmentally Friendly — Digital dental X-rays are better for the environment! With digital radiography, no chemicals are used to develop film.
The Kodish-Perez Dental Group
Dr. Perez and Dr. Kodish are experienced Dentists in Fort Lauderdale. At The Kodish-Perez Dental Group, we provide the best in Digital Dental X-rays services available for our patients, the Intraoral X-ray. This type of X-ray is one of the newest and most effective techniques available and provides images in exacting detail of the patients' dentistry. The greatest advantage of this X-ray is in the safety that it provides to the patient because it delivers 75% less radiation than that of a standard X-ray.
Contact The Kodish-Perez Dental Group and schedule an appointment to have digital x-rays done today! Dental insurance plans vary. The Kodish-Perez Dental Group offers financing options.
Dr. Perez and Dr. Kodish welcome you to Kodish-Perez Dental Group. Here in Fort Lauderdale, Dr. Perez, Dr. Kodish, and their team believe in providing patients with the best treatment available. We support a 'full care' dentistry environment, meaning that we will recommend the services needed to bring your smile to a state of optimal health, as well as provide you with a personalized prevention plan to address further concerns. This level of dental care is the dental care we would give members of our own family! Please contact us today to schedule your first appointment.