Dental Anxiety – 60% of People Suffer Don't Be One of Them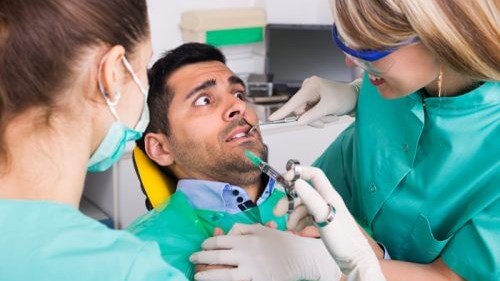 Dental Anxiety
Dental anxiety refers to the feeling of uneasiness people sometimes feel when it is time for their appointment. Dental health is suffering on a global level because of high dental costs, lack of dental insurance, the fear people have of going to the dentist's office.
Most people can live with the feeling of anxiety, but one-third of the U.S. population avoids going to the dentist because of this anxiety. People are fearful of the pain, the smell of chemicals, the sound of the drill, having their mouth open for an extended length of time, high costs, and even being stuck in the dental chair. How can you avoid having dental anxiety and being part of 60% of the population who is tensed from stress and anxiety before your appointment?
Dental Health
Oral care is important to overall health, so it is essential to find a way to cope with cleanings and potential fillings. Dentists have some recommendations for patients with dental anxiety.
Expert-Approved Tips to Relieve Dental Phobia:
Find a dentist who cares. It is important to find an experienced dentist who will offer a positive experience and spend more time with you when you are having dental procedures. Ask friends for referrals and set up a consultation to ensure you will connect and that you feel at ease. An experienced, qualified, and caring dentist is the first step to receiving high-quality dental care.
Don't be embarrassed. Admit to feeling afraid of the dentist. Communicate your worries to your dentist. Be precise about what triggers your fears. Telling your doctor that the sound of the drill or the anxiety about the potential pain is scaring you makes it easier for them to make you more comfortable.
Distract yourself. Find ways to distract yourself from the scary sounds, sharp tools, and unpleasant scents. Wear headphones or earplugs, watch a movie or music video, and ask your doctor to use essential oils to mask some of the sterile scents.
Consider medication. Severe cases of dental phobia might require laughing gas. Laughing gas is nitrous oxide, it is very safe, and reduces dental anxiety.
Anesthetics. Anesthetics remain a key solution to alleviate a patient's fear and anxiety. 60% of patients resort to local anesthesia to overcome the pain and fear associated with dental procedures.
Dentists are getting on board. Dentists are attending empathy promoting seminars and implementing pain and stress relieving methods in their offices. Painting bright and cheerful colors in their dental offices, playing discreet and relaxing background music, and training their assistant
Technology. Technology is supporting dentists when their patients have dental fear. There are advanced, painless injection systems and quiet drills which make treatment more bearable. Patients can wear 3D glasses and headphones while in the dental chair. These approaches are worth trying to overcome the widespread fear spiral that seriously threatens dental health.
Dr. Perez and Dr. Kodish are innovative dental providers with expertise in many areas. They care about your dental health and how it affects your overall health. Contact The Kodish-Perez Dental Group today to make an appointment. Dr. Perez or Dr. Kodish will spend the time necessary during an examination to make you feel at ease. Financing is available.
Dr. Perez and Dr. Kodish welcome you to the Kodish-Perez Dental Group. Here in Fort Lauderdale, Dr. Perez, Dr. Kodish, and their team believe in providing patients with the best treatment available. We support a 'full care' dentistry environment, meaning that we will recommend the services needed to bring your smile to a state of optimal health, as well as provide you with a personalized prevention plan to address further concerns. This level of dental care is the dental care we would give members of our own family!
Please contact us today to schedule your first appointment.