Bruxism Facts – HELP! I'm Grinding and Clenching My Teeth!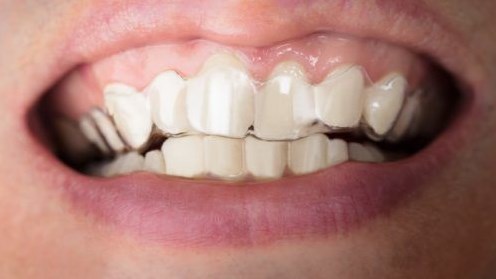 Bruxism Facts
Do you grind or clench your teeth? If you answered yes, you are not alone, here are we talk about some Bruxism Facts. Bruxism is a prevalent condition affecting 30 to 40 million adults and children in the United States. Most people grind or clench their teeth to some degree.
Grinding is when the teeth are rubbing together when not chewing food. Clenching is when the teeth are held together without moving back and forth.
Interestingly, many people have nocturnal bruxism and may not be aware they grind or clench their teeth because it occurs while they sleep.
Causes of Bruxism
The activation of reflex chewing causes bruxism, and some experts view bruxism as nothing more than a bad habit. However, experienced dentists such as Dr. Perez recognize there are valid reasons why some people develop bruxism.
Bruxism can occur when:
There is a lack of symmetry in the teeth.
A person has stress or anxiety.
When a person has a rare disease affecting the nervous system.
There are digestive problems.
There is a disturbed sleep pattern.
A person is taking certain antidepressants.
A person may also develop bruxism from a sad event, such as the death of a loved one or a joyous occasion, such as landing a new job or having a baby.
Bruxism Symptoms – How to Determine if You Have Bruxism
Do you:
Have contractions of your jaw muscles?
Hear a grinding sound at night?
Have headaches upon waking?
Have tight, swollen, or painful jaw muscles?
Have damaged teeth or broken fillings?
Have worn tooth enamel?
Have tooth sensitivity?
Clicking of jaw joints?
If you experience any of these symptoms, it is time to see a dentist who has experience with treating Bruxism. They can determine if you have bruxism and can treat it if you do. Your dentist will check for tenderness, worn dental enamel, broken teeth, and poor tooth alignment. Additionally, he or she may take x-rays of your teeth and jaw and check your bite.
Bruxism Treatment
The cause of your bruxism will determine the treatment you will receive. If it is stress-related, your doctor may recommend some exercises or medication to help you relax. If you are grinding due to tooth misalignment, your dentist may use crowns to reshape the biting surfaces of your teeth. Your dentist may also recommend that you get fitted for a night guard to wear while you sleep. The nightguard will separate your teeth and prevent them from touching.
The effects of bruxism can be quite advanced before they are noticed. Tooth fractures and gum recession can result before a patient even realizes they have been grinding their teeth. If you think you are experiencing symptoms of bruxism, contact the Kodish-Perez Dental Group. They can provide you with a solution for your bruxism symptoms today. Financing is available.
Dr. Perez welcomes you to Kodish-Perez Dental Group. Here is Fort Lauderdale, Dr. Perez and his team believe in providing patients with the best treatment available. We support a 'full care' dentistry environment, meaning that we will recommend the services needed to bring your smile to a state of optimal health, as well as provide you with a personalized prevention plan to address further concerns. This level of dental care is the dental care we would give members of our own family!
Please contact us today to schedule your first appointment.