The Benefits of Digital X-Rays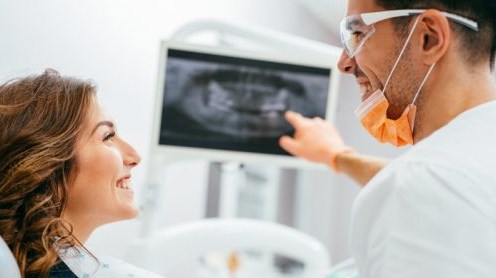 If you have ever been to a dentist, you have most likely had x-rays. X-rays are dental images that provide your dentist with information about your teeth that can be both diagnostic and preventative. They can show, cavities, decay, and abnormalities with the bite or root structure of the teeth.
Technology is improving every day and is helping dentists improve the way they practice. Dental Digital X-Rays make taking and having X-rays safer and more convenient.
Benefits of Dental Digital X-Rays
Traditional dental X-rays emit very low amounts of radiation. Patients are covered with lead aprons to protect them from radiation. Digital radiography, a high-tech replacement makes the process even safer. The equipment used in digital radiography uses 90 percent less radiation than traditional X-rays. They are an especially good option for patients who require X-rays on a regular basis.
The process used for digital radiography is similar to traditional dental X-rays. The dentist or hygienist will place a sensor in your mouth to capture the images of your mouth and teeth. The digital images are sent directly to a computer and projected on the screen for the dentist to view.
A digital dental X-ray can be performed extraoral and intraoral. Intraoral X-rays are the most common because of the high detail and clear view of the teeth they produce.
Digital X-rays shorten dental appointments. With the images instantly transferred and projected on the computer screen without having to wait for the film to develop, saving everyone a lot of time. The images can also be immediately e-mailed to a dental specialist saving the time and expense of making copies and mailing the images. Patients can also have electronic charts which save the office staff time by not having to complete paperwork.
The image quality is far better than traditional X-rays. Digital images can be enlarged and magnified for a better visual of the tooth's structure and gum line. The color and brightness can also be adjusted to make viewing small imperfections much easier. Dentists are able to view subtle differences in teeth when comparing one image to the next. Best of all, these images can also be printed out.
Digital Dental X-rays are also better for the environment. There is no need for chemicals or developing or storing film.
Advantages of Digital Dental X-Rays
To find hidden decay that may be developing underneath an existing fill-in
To find cracks or damage in an existing filling
To alert the dentist to possible bone loss
To reveal potential problems in the root canal
To help your dentist prepare the placement of dental implants, dentures or other dental work
To reveal other abnormalities
Dr. Perez uses the most up-to-date technology available to provide our patients with the best X-ray service available. X-rays are an important part of each dental checkup and digital X-rays are the newest and most effective providing exacting detail. They deliver 75% less radiation too!
Are you in need of a dental office that provides the latest in digital X-ray technology? Contact The Kodish-Perez Dental Group today to make an appointment to have your digital X-rays done. Financing is available.
Dr. Perez welcomes you to The Kodish-Perez Dental Group. Here is Fort Lauderdale, Dr. Perez and his team believe in providing patients with the best treatment available. We support a 'full care' dentistry environment, meaning that we will recommend the services needed to bring your smile to a state of optimal health, as well as provide you with a personalized prevention plan to address further concerns. This level of dental care is the dental care we would give members of our own family!
Please contact us today to schedule your first appointment.