All On 4 Dental Implants – Smile Brightly and Confidently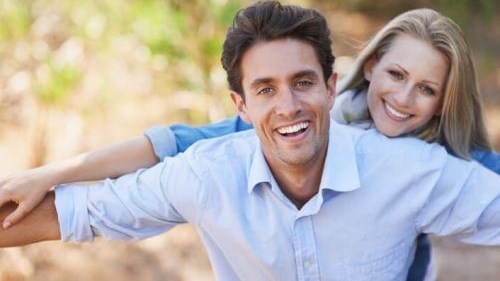 Damaged, broken and missing teeth can affect how you look and feel about yourself. Furthermore, these serious dental issues can make it difficult to chew and talk, affecting your self-esteem and your smile. Thanks to advances in dental implant technology, just four implants could help restore beauty to your smile and get back your dental health. With All On 4 Dental Implants, you can get a brand-new smile in just one day.
What is All On 4 Dental Implants?
All On 4 Dental Implants is a dental implant that can replace multiple teeth. The "all" refers to all teeth being supported with "4" dental implants. It is not necessary to get a dental implant for each of your missing or damaged teeth. With just four implants placed on the top of your mouth and four on the bottom, whole rows of teeth can be completely restored.
The All-On-4 implant is made of titanium. Over time, it fuses to the bone and becomes part of the jawbone, permanently fixing the implants in place. By providing a strong, durable foundation for your new teeth, future bone loss is prevented. Avoiding bone loss means your jaw structure remains youthful in appearance and allows you to maintain good oral health. An All-On-4 implant is a fast and easy solution to restoring beauty, function, and health to your teeth and your smile.
Why Not Get Dentures?
Traditionally dentures have been the solution for broken, missing or diseased teeth. However, the pain they can cause, the complicated process of getting them, and their high cost may be reasons you want to avoid them. Rather than dealing with the day-to-day hassles of dentures such as cleaning and watching what you eat, there is a better solution available to you. Why deal with the headaches of dentures when an All-On-4 implant could achieve the same results?
Benefits Of All-On-4
Same-day procedure
Less likely to get gum recession or bone loss compared to traditional bridges or dentures
Silent – no clicking noises
Stationary – no need to remove them for cleaning or maintenance; won't get lost or be at risk of becoming damaged or broken
Durable and reliable
No food restrictions
Maintain bone health
Improved speech
Improved self-confidence
Eliminates health issues caused by damaged or broken teeth
Long-lasting
Avoid getting dentures
A brand-new smile can be yours in as little as two visits
Consultation
Dr. Perez or Dr. Kodish will assess you to see if you are a good candidate for All-On-4. You must be in good health to be considered for the procedure. During your consultation, a CT scan will be taken to ensure the surgery can be performed successfully. The procedure will be completed "digitally" using high-tech software so you can see what the result would look like. During the consultation, Dr. Perez or Dr. Kodish will give you plenty of time to ensure all of your questions are answered.
Procedure
The procedure begins by sedating the patient (if they desire to be sedated) with intravenous sedation. Next, the affected teeth are extracted and replaced with implants. Any incisions are stitched up with dissolvable stitches, which will disappear in 1-2 weeks.
Either the same day or the next, you will be fitted with your new teeth. A temporary resin overdenture will be provided to allow your implants to heal safely. Approximately 6-9 months after your surgery, your implants will have healed enough to support a permanent porcelain overdenture. Permanent overdentures are highly durable and can last for 10 years or longer if you take good care of your teeth.
Side Effects
After surgery, it is normal to experience mild side effects such as bruising, swelling and general discomfort. It is recommended you take a few days off work after the surgery to allow for recovery. While the implant heals, you will need to eat a soft diet.
Cost
All-On-4 procedures are an investment in your oral health and appearance. Pricing is dependent on a variety of factors, but most importantly, on the needs of the patient. After your free consultation, Dr. Perez or Dr. Kodish will provide you with an estimated cost. Kodish-Perez Dental Group accepts most dental insurance plans. Care Credit Financing is available for those who qualify.
Call Kodish-Perez Dental Group Today!
All-On-4 Implants could be just the solution you are looking for if you have several broken or damaged teeth and want to avoid dentures.
Call us today to schedule your free consultation. We are looking forward to transforming your smile and your self-confidence.