All-On-4 Dental Implants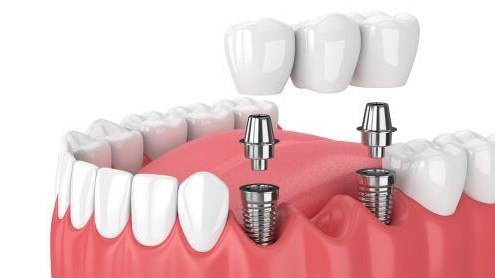 All-On-4 Dental Implants
With so many dental implant choices, how do you know which option is best? The All-On-4 Dental Implants is a small titanium screw that is inserted into the jawbone in the space left by the missing tooth. Your implant dentist will attach a fake tooth to the screw.
You can multiply this by four and get an AAll-On-4 Dental Implants instead of a separate implant for each missing tooth. The cost of these implants varies depending on the type of material (acrylic, porcelain, or composite) used and how many implants you need. Porcelain implants are more realistic looking and typically last the longest because the material is stronger.
All-On-4 Dental Implants:
Avoid gum recession and bone loss which often happens with traditional bridges and with denture use.

Are silent so there are no clicking noises.

Are stationary, so they can't be lost, broken or need cleaning.

Are durable and very reliable.

Preserve bone health by substituting for the missing root, thus providing the mass to help the bone retain its natural size.

Do not have restrictions on eating particular foods, as dentures may.

Can last a very long time.
All-On-4 Dental Implant Procedure:
Your dentist will administer local or general anesthesia to ensure your comfort.

Your mouth will be prepared for the implants. Any remaining tooth and infected tissue will be removed from the jaw and gums.

The implementation process will begin with the titanium screw being inserted into the jawbone, and the implants will be placed toward the front of the mouth.

The surgical site will be thoroughly cleaned after the implants are placed.

You will be placed in a recovery room to relax and awaken from the anesthesia.
Recovery
All-On-4 Dental Implants have a shorter recovery time than traditional implants since implants fuse to the bone and promote stability from the very first day.
You will have gauze packs to gently bite down on placed on the areas you had surgery until you stop bleeding. You will want to change this gauze every 30-45 minutes.
Do not rinse or touch the areas you had surgery on, except to gently brush your teeth with a soft toothbrush. It is recommended that you do not smoke. It is essential to keep your mouth as clean as possible. You can use a saltwater rinse to keep your mouth clean. It is recommended that you do not exercise, rest often, and eat soft foods for a few days following the surgery.
Possible Side Effects
Persistent Bleeding – you can use gauze packs to stop the bleeding.

Swelling – Ice packs can help control the swelling.

Pain – If the pain is unbearable, call your dentist.

Diet – It is recommended that you eat liquids and pureed foods.

Nausea – Carbonated drinks and crackers may help relieve nausea.

Dry Lips – Use chapstick to relieve dry lips.

Discoloration – You may notice some bruising or discoloration near the surgical areas.

Sore Throat – You mouth may feel sore, but should feel better in a few days.
If you experience any of these symptoms or problems, you should do is contact your dentist. With any surgery, there are risks involved. With an All-On-4 procedure, the possible complications include infection, poor healing, and profuse bleeding. Dr. Perez and Dr. Kodish will do everything in their power to avoid these risks.
Dr. Perez and Dr. Kodish are experienced Dentists in Fort Lauderdale and the best place to get an All-On-4 implant done expertly, Our implants will match your teeth, fit correctly, are affordable and will last a long time. Financing is available.
Dentist Fort Lauderdale
Dr. Perez and Dr. Kodish welcome you to Kodish-Perez Dental Group. Here in Fort Lauderdale, Dr. Perez, Dr. Kodish, and their team believe in providing patients with the best treatment available. We support a 'full care' dentistry environment, meaning that we will recommend the services needed to bring your smile to a state of optimal health, as well as provide you with a personalized prevention plan to address further concerns. This level of dental care is the dental care we would give members of our own family!
Please contact us today to schedule your first appointment.