The 5 Amazing Benefits of Adhesive Dentures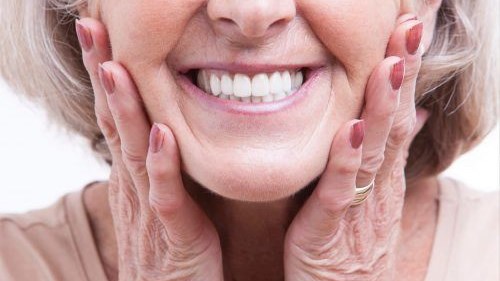 Adhesive Dentures
Teeth are an essential part of our anatomy and have many important functions. It is crucial to keep them healthy, so they can assist us with our eating, speech, appearance, and self-esteem. In some cases, however, no matter how well we look after our teeth, they may need to be replaced. Learn more about Adhesive Dentures in this article.
Are you naturally losing teeth or experiencing tooth decay? Are you missing a tooth due to planned tooth extraction or accident? Dentures offer a wide range of benefits making them a popular solution for replacing missing teeth.
Dentures are a customized appliance made of prosthetic teeth attached to a plastic or removable metal plate. They are comfortable and natural-looking and are made to match your natural tooth shade and shape. Dentures come in two types: full dentures are made to fit many missing teeth, while partial dentures fill spaces left by a few missing teeth.
5 Benefits of Dentures:
Restore the Function of Your Teeth – Dentures restore the full function of your mouth. They work like regular teeth, allowing you to chew solid foods once again.
Improved Speech – Missing teeth can affect the pronunciation of sounds, compromising speech. Dentures restore your teeth and improve your pronunciation.
An Improved Appearance – People with missing teeth may feel embarrassed. Dentures lift your cheek and jaw muscles, giving your face a more toned look.
Restored Confidence – With an improved appearance, an increase in confidence is guaranteed to shine through so you can show your improved smile.
A Long-Lasting Solution – Dentures can last between five and ten years making them a sound investment.
Benefits of Non-Slip Adhesive Dentures
Whether you are new to dentures or have worn them for years, you will want your dentures to fit securely and comfortably. Dental adhesives offer extra security and peace of mind. The adhesives create a layer between the dentures and your gums making it more difficult for dentures to shift around or slip off.
Adhesives come in gels, powders, pastes, or pads and are not harmful to dentures, but should be cleaned each evening when you remove your dentures for the night.
Dr. Perez can make a mold of your mouth to design perfectly fitting, non-slip dentures. Dentures may seem awkward at first, but in time, eating and talking will become completely routine.
Call us today if you are finally ready to eat normally and smile at the world again. Financing is available.
Dr. Perez welcomes you to the Kodish-Perez Dental Group. Here is Fort Lauderdale, Dr. Perez and his team believe in providing patients with the best treatment available. We support a 'full care' dentistry environment, meaning that we will recommend the services needed to bring your smile to a state of optimal health, as well as provide you with a personalized prevention plan to address further concerns. This level of dental care is the dental care we would give members of our own family!
Please contact us today to schedule your first appointment.